Husband | Father | Friend | Dog Lover
Hi there!  
So what is this site all about? Who am I? When did I become a runner? Why am I doing a 50K? All great questions and here are the answers. 
Who am I? 
I'm Adam Silver and I live in Cary, NC just outside Raleigh. Originally from the West Coast (mostly SoCal), we moved here in 2017. 
When did I become a runner? 
Actually, I'm not a runner! Or so I thought. For the past few years, friends of mine in a mens workout group (F3Carpex) started to tell me that I am a runner.  I blew them off and scoffed at the idea. Me a runner.. Nahh.
But then in early 2021, I had the memories of my father entering me in 10Ks. Then 5Ks as well, which I liked better as they were faster.  
I also then realized seeing my "memories" page on Facebook that I would "check-in" at the local track (Aviation Park) many days a week, over many years.  That got me thinking, "maybe I am a runner?" 
In addition to my bootcamp workouts I was doing with F3, I started mixing in some runs, and increasing the distances. Nothing crazy, just 3, 5, 8 miles. 
So why a 50K vs a Marathon?
My illogical logic is the goes like this — 
As indicated, I started increasing my distances and I then planned on running "The Maynard" here in town (it's a 10 mile loop). 
In contemplating that, I thought, "well if I can do 10, I can add 3 and that's a 1/2 marathon. If I am going to train for a 1/2, may as well train for a full and if I am going to train for a full, what's an extra 5!" Thus the 50K became the target. 
Additionally, some of the men I workout with have also taken on some epic challenges this past year, and it has inspired me to push myself. 
What is this site about?
I created it for three reasons.  
In researching "preparing for 50K's", I found a bunch of great videos on YouTube.  The problem was those videos were mostly of people's experiences during the race, not the actual training, for which I was looking for.
So basically, 
It's a place to share the journey.
Hold myself accountable, but adding content weekly.
Inspire and motive others.

 
Do you like the Movie Forrest Gump?
I wonder why you are asking that? 😉 and yes I do!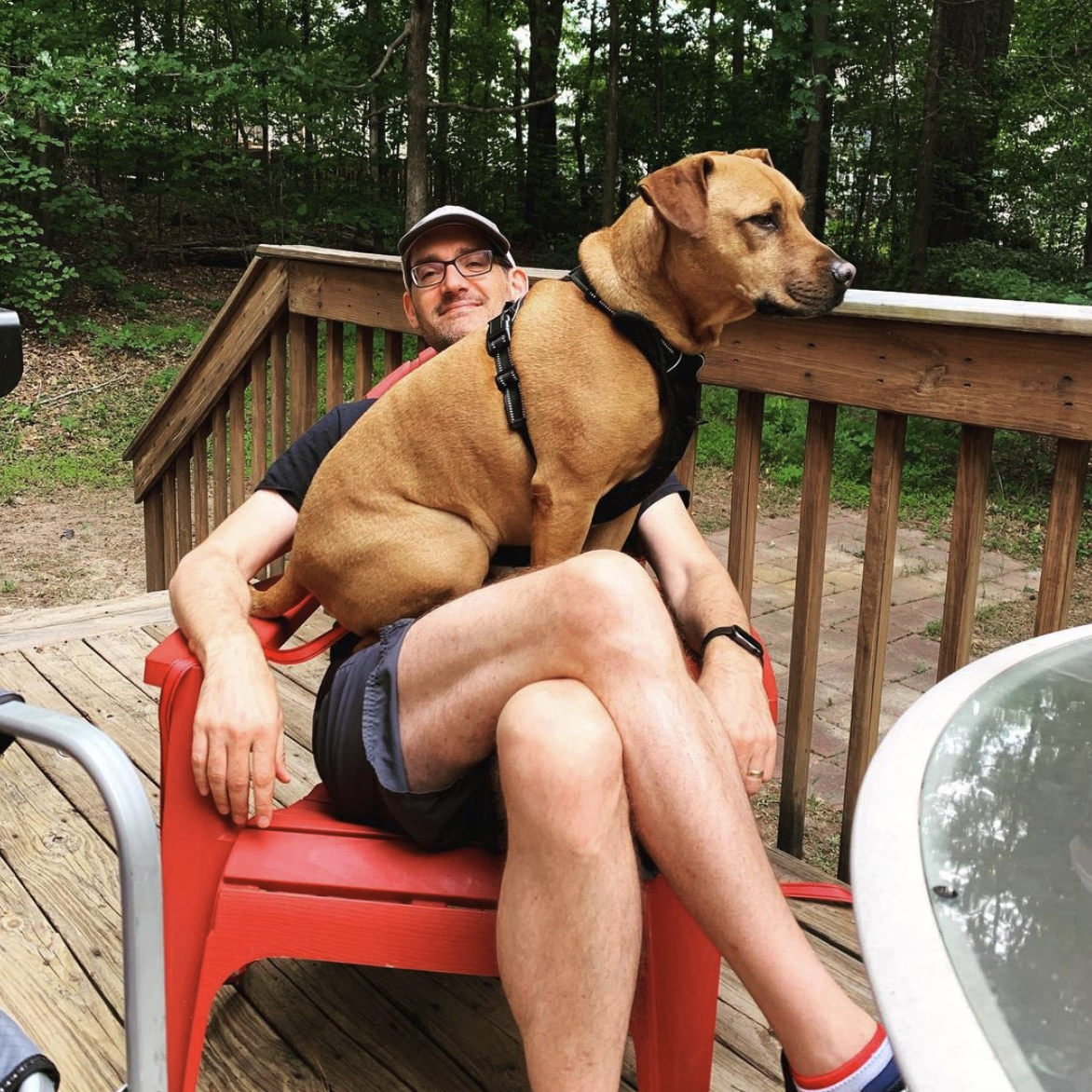 Adam sitting with "Delvis" aka Delly.
Delvis is a 60lb Ridgeback/Staffy mix. More photos of him are on instagram @delvisthedog