In sharing the news of my registering for the MTS 50K with some of my F3 buddies, I noticed a theme on the responses I was getting. Many were "oh. cool…awesome!" along with the, "whoa.. you're crazy". The response that I didn't expect was the basic question of "why?"
What I have learned from both my online research as well as from those asking me "why" was that the question isn't so much on the distance but rather if I knew "what my why" was. This was to make sure I had the resolve to stick to the training and actual event. Apparently this is important for ultra runners, especially as things can get difficult up to the race and during. So I started thinking about it. A lot.
As I sit here in my home office, I am reflecting on the the 4 mile run I did a few days ago, I just happened to take a gander at the event page. I finally noticed the info on the aid stations (there will be 3 of them — one station half way (visited twice), one at the turnaround) I find myself pondering the question. It's been stuck in my head for over a week now.
"What is my why".
I then look over to the side of my desk and see my phone stand with post it on it. It says "love dad" in my fathers writing. I tear up. I then think about my mom too.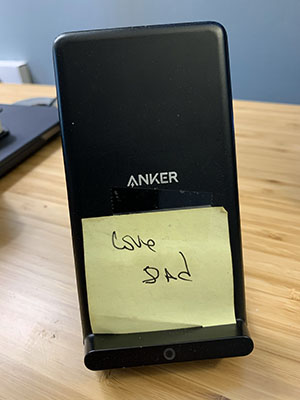 As of this writing, they are still both alive. Dad is 90 and mom is 76. I'm a week away from 51 myself. With that, I think my why comes down to the following two reason:
Reason #1
Why not? I've often picked things to do that most people don't. Not to say that they can't, they just choose not to.
Reason #2
I recall my father being my age and was really active and fit. Studies show that keeping active is good for our minds, body and soul. At 90 he still goes into the office (he's a lawyer) as he likes what he does and it keeps him mentally sharp. Of course he has slowed down a bit, lost some height, but he is still getting after it. It motivates me to keep going.
My mom had a minor stroke about 14 days ago which freaked me out to say the least. Of course I didn't see that coming (who would?), and though she is doing better, her longevity may have changed. I am relieved on a daily basis that she is doing better each day.
So my second reason is simple: There is no promise of tomorrow. We need to live in the moment as best we can. Appreciate all that we have around us. Practice gratitude and be humble. Hug your parents. Hug your partner. Hug your kids.